The town is definitely preparing itself for Christmas, as I walk with Perla in the evenings more and more houses have Christmas lights up.
The 2011 sign is once again alight, letting us know that 2012 is not far away,
the street light decorations are all up in readiness to be turned on,
the cross is also up and ready to light up the graveyard
and on Tuesday my Christmas tree arrived
and was erected in my front yard.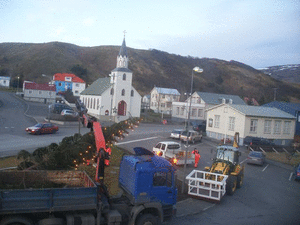 The tree will have its official lighting at the beginning of advent...which is possibly this weekend.
So I think all this means Christmas is not too far away....however to me it seems like we just had Christmas...the years are so short these days.
Every house in town puts up lights and they stay on 24/7...so during the dark winter days the town takes on a golden glow.
The Old Post House has yet again come to the party and provided me with a bag of decorations and lights, so they will go up this weekend.
My gift giving this year will be a homemade Christmas...so I am very busy in the knitting and making department. Having my children here and us being all together is the best gift we could give each other...it is a bit hard to out do that.